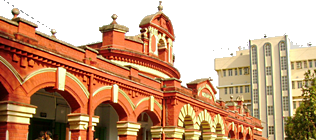 Office Profile

Zilla Parishad (ZP)

Functionaries

Part of Administrative Building (PMZP)

District Profile

Other Units

District Map (West Midnapore)

Works Under ZP

Housing & Roads

Sanitation & Edu.

Schemes Under Paschim Mednipur ZP

Fund & Finance

Finance & Funds of Paschim Mednipur ZP

Others

Public Corner

Public Corner of Paschim Mednipur ZP

Administration

Other Interests

Contact @

Contact with Paschim Mednipur ZP

Sunday, April 21, 2019

Fourteenth Finance Commission (14th FFC)
---
About Fourteenth Finance Commission (14th FFC):
The Fourteenth Finance Commission (FFC) was constituted by the President on January 2, 2013 to gige recomendations on specified aspects of Centre - State fiscal relations during 2015-20. The Commossion submitted ots Report to the President on December 15, 2014.


The FFC was, inter-alia, mandated to recommend measures needed to augment the Consolidated Funds of the States to supplement the resources of the Panchayats and Municipalities based on the recommendations of the respective State Finance Commissions (SFCs).


As per the Constitutional provisions, the explanatory memorandum as to the action taken on the recommendations made by the FFC in its report submitted to the President was laid in the Parliament on February 24, 2015. The Government of India accepted the recommendations of the FFC in respect of the Local Bodies.


Progress Report on Fourteenth Finance Commission (14th FFC):