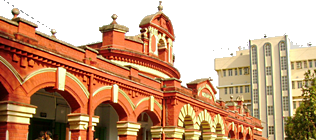 Office Profile

Zilla Parishad (ZP)

Functionaries

Part of Administrative Building (PMZP)

District Profile

Other Units

District Map (West Midnapore)

Works Under ZP

Sanitation & Edu.

Schemes Under Paschim Mednipur ZP

Fund & Finance

Finance & Funds of Paschim Mednipur ZP

Public Corner

Public Corner of Paschim Mednipur ZP

Administration

Other Interests

Contact @

Contact with Paschim Mednipur ZP

Wednesday, April 1, 2020


Login

Mission Nirmal Bangla

About Site

Hosted on: 20/11/2007
Last Updated: 01/04/2020
Your IP: 172.18.210.29
Hostname : 172.18.210.29
User online : 2
Total Visitor: 104963
This Site is Designed, Developed and Maintained by Paschim Medinipur Zilla Parishad.

Block Login

Click Here

About Us

Introduction: Zilla Parishad is a local government body at the district level in India. It looks after the administration of the rural area of the district and its office is located at the district headquarters.

Constitution: Members of the Zilla Parishad are elected from the district on the basis of adult franchise for a term of five years. There are seats reserved for Scheduled Castes, Scheduled Tribes, backward classes and women. The Chairmen of all the Panchayat Samitis are members of the Zilla Parishad. The Parishad is headed by the Sabhadhipati and Saha-Sabhadhipati.

Departments: There are ten departments in the Parishad each of which has a Karmadhakhya(Chairman): 1. Standing Committee 2. Finance 3. Public Works 4. Agriculture 5. Health 6. Education 7. Social Welfare 8. Animal Husbandry and Dairy 9. Women and Child Welfare 10. Water Conservation and Drinking Water The President is the Chairman of the Standing Committee which supervises and controls the working of the other committees.

Administrative Structure: The Executive Officer (EO), who is an IAS officer, heads the administrative machinery of the Zilla Parishad. The EO supervises the divisions of the Parishad and executes its development schemes.
...Read more...